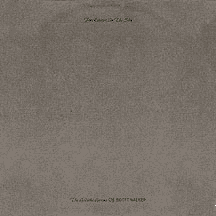 Little Things (That Keep Us Together)
Plastic Palace People
Girls From The Streets
The Seventh Seal
The Amourous Humphrey Plugg
Boychild
Always Coming Back To You
---
Great stuff, obviously, but kind of a weird comp. Julian Cope put this together (he even gives himself credit for it on the back cover,) and maybe he thought he had to focus on the gloomy stuff. Granted, it's ALL gloomy, but this collection is relentless...everything except "Little Things" and "Girls From The Streets" is a ballad. A great mood piece, but kind of a one sided introduction.
Back Home Scott 1 Scott 2 Scott 3 Scott 4 Til The Band Comes In I Threw It All... Climate Of... Tilt
The Godlike Genius... It's Raining Today
(WB) Introducing... (WB) The Sun... (WB) No Regrets (WB) Nite Flights (?) I Only Came...