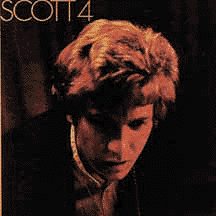 The Seventh Seal
Boy Child
Hero of the War
Get Behind Me
Rhymes of Goodbye
---
One of the most artistically compelling and commercially confusing records ever made. Artistically compelling because of the full maturation of Scott's vision: there are no covers at all, and absolutely no flippancy whatsoever. Commercially confusing, because even though "Scott 3" hit number 3 on the charts, "Scott 4" didn't hit the charts at all.
There are several explanations as to why this didn't happen, but I'm having a hard time processing any of them to my satisfaction. This album was credited to Scott Engel, with the name Walker nowhere to be found, so some believe that people simply weren't aware of its existence. My problem with that idea is that the cover art is a straight continuation of the previous three: anyone with even a passing familiarity should have known immediately who this was. Some believe that the lack of Brel covers killed this album, but the Brel tracks weren't what carried "3," and it did fine. The material was uncommercial, granted, but we're not talking about disenchanted fans: people had to buy it to know they didn't like it, and the LP didn't even make a blip, saleswise.
Whatever the reason, it's a shame, because "Scott 4" is far and away his best work to this point. There's not one wasted note on here, and the subject matter takes center stage: it's astonishingly clear from start to finish what Scott's driving at, whether it's anti-war sentiment ("The Old Man's Back Again,""Hero Of The War,") spiritual longing ("The Angels Of Ashes,""The World's Strongest Man,") or existential pontification "The Seventh Seal.") This album gives a little more fuel to the (for lack of a better term) "Goth Sinatra" fire, but I'm not going to get into that...
Back Home Scott 1 Scott 2 Scott 3 Scott 4 Til The Band Comes In I Threw It All... Climate Of... Tilt
The Godlike Genius... It's Raining Today
(WB) Introducing... (WB) The Sun... (WB) No Regrets (WB) Nite Flights (?) I Only Came...