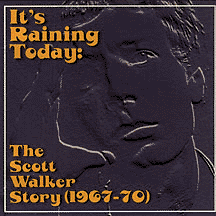 Jackie
Through A Long And Sleepless Night
Next
The Seventh Seal
Plastic Palace People
Joe
Lights Of Cincinnati
Cowbells Shakin'
Thanks For Chicago Mr. James
Little Things (That Keep Us Together)
Joanna
---
A great comp, and a good a place to start as any. Has a nice cross section of the 5 early LPs before he got completely cynical and started covering stuff exclusively. Also has a few extra single tracks ("Lights Of Cincinnati" and "Joanna.") It's also the only domestic (USA) early Scott to be had so far.
While reports are that "Lights Of Cincinnati" was not exactly Scott's favorite song, his birthplace of Hamilton, Ohio is just on the outskirts. Huh.
Back Home Scott 1 Scott 2 Scott 3 Scott 4 Til The Band Comes In I Threw It All... Climate Of... Tilt
The Godlike Genius... It's Raining Today
(WB) Introducing... (WB) The Sun... (WB) No Regrets (WB) Nite Flights (?) I Only Came...