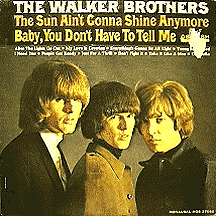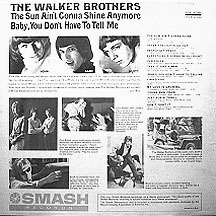 The Sun Ain't Gonna Shine (Anymore)
After The Lights Go Out
People Get Ready
Everything's Gonna Be Alright
Old Folks
Take It Like A Man
(Baby) You Don't Have To Tell Me
I Need You
My Love Is Growing
Young Man Cried
Just For A Thrill
Don't Fight It
Yes, the LP which contains what may well be Mr. Walker's most well known contribution to the music world ("The Sun..." of course.) Fine stuff, and rumor has it that the whole WB LP catalog is to be reissued soon...liner notes below (thanks again to Burk Sauls for transcription and scans...)
---
Time was, when young men sought big success, they migrated toward the U.S. In today's international music scene, like the old song says... t'aint necessarily so! The Walkers are a case in point. From Southern California, this trio headed to Great Britain where instantaneous success greeted then (not at the boat, but quite soon afterwards). Now, with two Number 1 records and thousands of frenzied, havoc-making fans, The Walker Brothers are virtually a British Establishment all by themselves. - Jere Real
John Walker often creates chaos as he sings for British audiences, (Quite likely, he'd create more chaos if he didn't sing!) Jon plans to keep on singing, a fact appreciated by British fans but an eventuality singularly distasteful to British "Bobbies."
One British music publication recently attributed the Walker Brothers success to their "romantic" quality. "Talent plus sex appeal is what has made them," the magazine said. The photo above displays one quality. Play the record for the other.
Scott is Canadian-born, and is the moody, introspective Walker. He is, by nature, a reflective "loner" who likes to get away, to have time to himself, to "just think."
The Walker Brothers all like exotic cars. Scott's vehicle is the most exotic; it is called a Jeep - a World War II Army vehicle noted for a rugged ride and maneuverability. Scott is no militarist, but in London traffic, a war chariot helps.
Musical success means constant traveling... and loads of luggage. Drummer Gary Walker has a brand new bag (several of them, in fact).
---
Back Home Scott 1 Scott 2 Scott 3 Scott 4 Til The Band Comes In I Threw It All... Climate Of... Tilt
The Godlike Genius... It's Raining Today
(WB) Introducing... (WB) The Sun... (WB) No Regrets (WB) Nite Flights (?) I Only Came...