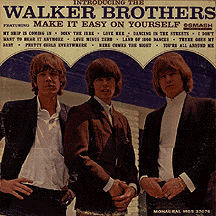 My Ship Is Comin' In
Doin' The Jerk
Love Her
Dancing In The Street
I Don't Want To Hear It Anymore
Love Minus Zero
Make It Easy On Yourself
Land Of 1,000 Dances
There Goes My Baby
Pretty Girls Everywhere
Here Comes The Night
You're All Around Me
---
Ah...thank God for hole in the wall record stores. A mono copy of the first Walker Brothers LP...
Listening to this as I type these words, I can see why they were such a big hit out of seemingly nowhere. Even now, after much of this material has been done to death by many inferior acts (not to mention much of this stuff just didn't age real well,) there are still many chill inducing moments. They're all in the ballads, though, which gives a more balanced perspective on why Scott did mostly melancholia in his solo career.
High points are "I Don't Want To Hear It Anymore," "There Goes My Baby," and, of course, "Make It Easy On Yourself." Below are the liner notes...
---
The Walker Brothers are truly the "Golden Boys" of the record business. What started out as a three-week promotional tour of the British Isles for the Southern California trio became a full year's stay. The high mark of this year of fervent, fanatic fandom was their record of "Make It Easy On Yourself" reaching No. 1 on the English popularity charts.
British fan and trade papers reflect the fab popularity of the threesome, John, Scott, and Gary Walker.
Disc Weekly called their popularity "fan fever-almost unequalled over here."
The Musical Express reported "hysterical receptions, usually reserved for established favorites like the Stones or the Beatles, greet their personal appearences."
Musical Echo stated "they (The Walker Brothers) have caused fan hysteria comporable to that of the Rolling Stones...headlines unprecedented as far as American attractions are concerned...Many people's tip for the top in '66 are the Walker Brothers who create hysteria wherever they appear...The Walkers will be challenging the Beatles and Stones in record sales and international honors by this time next year...The Walker Brothers, '65s most dynamic performers...take Britian by storm."
John Walker Born in New York City, November 12, 1943...Tallest of the Walkers at six-foot-four and tips the beam at 175...Self taught on guitar...Attended El Camino College in California...First met Scott in High School, when both played in the same orchestra...digs Johnny Mathis and Sandy Shaw among the vocalists...Had a Thunderbird car, now wants a Bentley...Loves pork chops...Among the small combos, he gives the nod to Rockin' Berries, Rolling Stones, and Ray Charles...Bacharach is his top composer. Actually loves all music from rock thru Mantovanni...Wants some day to become an international type of artist...Real name is John Maus...Lives in Regent Park apartment...Original Walker in that he started working as John Walker with his sister, Wendy, with a trio backing them.
Scott Walker Born in Hamilton, O., Jan. 9, 1944. Six-foot two inches tall, 165 pounds, blue eyes, blonde hair...Bass guitarist with the group...Lives in a Chelsea apartment with Gary, because they enjoy playing together on bass guitar and drums, respectively. The living room of their flat is done in blue, while bedroom is all in red, even to red bed-cover. Attended the California School Of Art, Los Angeles. Loves art. Digs the vocalizing of Jack Jones and Sandy Shaw and Francoise Hardy. He admits that arranger Gerald Wilson and Count Basie lead his favorite bands. Loves Turkish Moussaka...British Comedy stars Pater Sellers and Terry Thomas and Claudia Cardinale...Avid fan of the Beatles...Composers like Strauss, Gershwin, Liszt, and Beatles all...Would like a Basset hound. Real name Scott Engel...Now that he is in England, he would like an Austin-Healy car...Jack Good, British producer of "Shindig" at one time his biggest career influence, he feels.
Gary Walker Born September 3, 1944, in Glendale, California...Five-foot eleven, 145 pounds...called pudding head because of his bowl like haircut...Once played drums for P.J. Proby...Brown eyes and brown hair...went to Glendale Junior College...Dislikes getting up...Also warm beverages...Loved motorbike chases in California...Enjoys cutting girls' hair...Digs John Lee Hooker, James Brown, the Merseybeats, and John B. Great...Likes all well-seasoned food...Real monicker is Gary Leeds...Likes to wear black polo necked sweaters...Proud of the fact that in the "Melody Maker" 1965 "Brightest Hope" poll, the Walker Brothers were selected Number One, topping such fine acts as Donovan and Bob Dylan in a poll of English fans.
For a free publicity photo of the Walker Brothers, send name, address, (state age) to Publicity Dept., Smash Records, 35 East Wacker Drive, Chicago, Ill. 60601.
---
Y'know, something tells me that address is out of photos...
Back Home Scott 1 Scott 2 Scott 3 Scott 4 Til The Band Comes In I Threw It All... Climate Of... Tilt
The Godlike Genius... It's Raining Today
(WB) Introducing... (WB) The Sun... (WB) No Regrets (WB) Nite Flights (?) I Only Came...