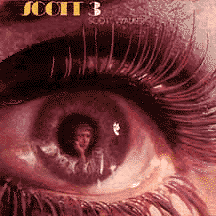 Copenhagen
We Came Through
Two Ragged Soldiers
30 Century Man
Winter Night
Two Weeks Since You've Gone
Sons Of
Funeral Tango
If You Go Away
---
First off, the photographer for this album, a Mr. Chris Walter, has a page...
"Scott 3" finds our hero sliding into a relatively more cerebral end of the spectrum. "We Came Through" shows his more political side (although still with the showmanship at the forefront.) This marks the beginning of Scott getting truly depressed: "It's Raining Today," a truly sad song, opens the LP, and "If You Go Away," another truly sad song, closes it. In between, there's not much reassurance.
"Big Louise" is one of the better known tracks on this album. Popular word has it that this is about an aging transvestite (or maybe Scott explicitly stated this at one point...) There's nothing in the lyrics that inarguably points to this. There is the line "And the sad young man's gone away," which appears to be saying the sad young man is Big Louise herself, but it's open to interpretation. Personally, I believe the transvestite version, but I'm unaware of any definitive explanation.
This album also marks the last time Scott would cover Jaques Brel. History is always open to revisionism, but there is some life in the arguement that this decision cost him his career...see "Scott 4" for details.
Back Home Scott 1 Scott 2 Scott 3 Scott 4 Til The Band Comes In I Threw It All... Climate Of... Tilt
The Godlike Genius... It's Raining Today
(WB) Introducing... (WB) The Sun... (WB) No Regrets (WB) Nite Flights (?) I Only Came...